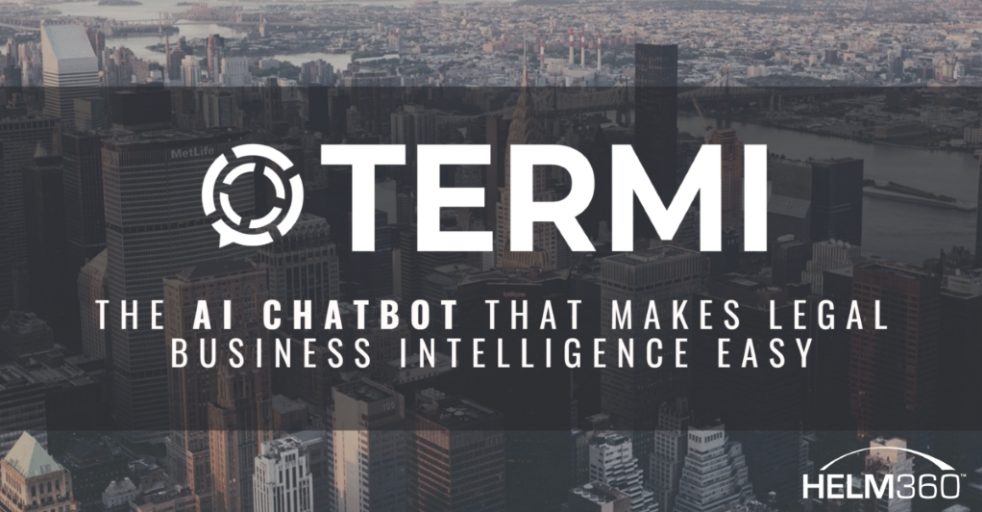 In today's tech-driven world, there is one universal expectation: easy and instant access to information. Mobile devices up the ante by allowing us to expect this access anywhere, anytime.
Lawyers are not immune to this expectation. In fact, the legal business depends on data more heavily than many other industries. Unfortunately, many legal reporting and timekeeping systems are slow, convoluted, and not user-friendly. They require multiple layers of security, endless clicking, and a lot of toggling between various confusing screens. Faced with these unpleasant systems, many busy lawyers choose to rely on their staff to locate information and compile reports. This solution is often inefficient and leaves a lot of room for human error, costing legal firms time and money every single day.
Enter Helm360's Termi
Termi is an AI chat-based solution designed to make legal timekeeping and reporting easy, efficient, and mobile. It removes data silos and connects users to legacy systems with a one-stop reporting and communication dashboard—no more endless clicking and toggling. Intuitive and logical, Termi turns timekeeping and reporting into a manageable task that lawyers can do anywhere.
What truly distinguishes Termi is its user experience (UX). "Termi revolutionizes the UX by putting conversational user experience first," says Termi's creator, Bim Dave. "The end-user craves an experience that's as simple as sending an email. Termi does this. It provides a simple, intuitive way of asking for information and, more importantly, acting on it."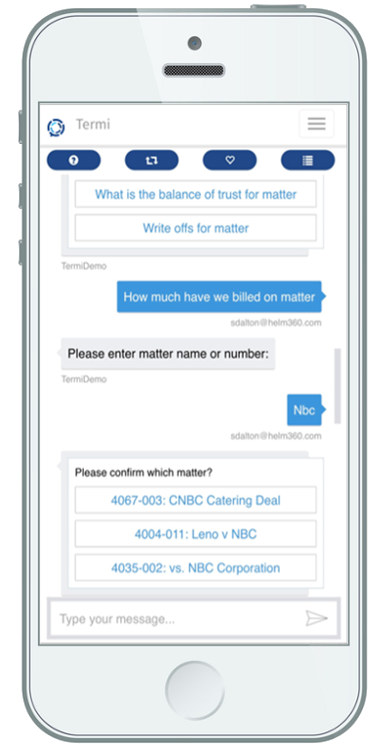 Termi puts natural language commands front and center. Users never need to navigate complex menus or learn fancy computer queries. All the hard work is done for you, including:
Accessing and updating client data
Managing, updating, and moving WIPs
Proactively notifying timekeepers of open WIPs
Generating proformas
Interfacing with Outlook
Delivering actions steps that can instantly be addressed
All this happens securely, from any device, in any location. And there's no need to involve a third party.
The power behind this software is a game-changer for legal firms. It boosts productivity, streamlines business practices, and most importantly, increases profitability. On top of that, it's fun to use! Contact us today to learn more about what your lawyers have been wanting all this time but didn't know to ask for: Termi.
Interested in learning more? Want to see Termi in action? Contact our team for a demo and more information.