Ensure Successful Conversion from Elite Enterprise to 3E
Updating your firm's business reporting system from the soon-to-be expired platform of Thomson Reuter's Elite Enterprise to the new updated and robust 3E system is no easy feat. Helm360's Accelerator implementation solution is making it easier for law firms to make the switch, and here's how.
Over the last 10 years, Helm360 has delivered various components for some of the most complex Elite 3E implementations globally. In doing so, we have created our Enterprise to 3E Accelerator Package, the perfect balance of the 3 P's – People, Process, and Product – to ensure that migration to 3E is lower risk, lower cost, a faster process and above all, a positive change for businesses.
Discovery Process
As we discussed during Initiating a Firm-Wide Data-Quality Mindset, the quality of data that resides in a firm's core financial system is often overlooked when embarking a system change. During the conversion process, we've found some teams minimize the importance of data quality, adding unnecessary data conversion cycles, and increasing the overall cost of the project.
In addition to practicing consistency in data quality, we recommend documenting business processes and implementation goals prior to starting the conversion process to ensures realistic expectations throughout the project to meet the official go-live date and sets the stage for a firm's internal success.
As Murray Clow, Senior Project Manager at Helm360, discusses in Transitioning from your legacy Practice Management System, reviewing current processes and investing in an internal project team are vital ingredients to a successful implementation.
Removing Uncertainty During Conversion from Enterprise to Elite 3E
Business Process Review: Helm360 works with internal teams to document unique business processes and eliminate potential challenge areas prior to the start of an Enterprise-to-3E system conversion. By implementing this up-front process, each firm's internal team feels engaged with a sense of ownership and responsibility, contributing to internal system adoption and project success.
Technical Review: Consultants at Helm360 review current Elite Enterprise systems to identify areas potentially customized by firms in the past. We've found most clients running Elite Enterprise have multiple areas of customization likely to impact the data conversion process, so to avoid a costly situation, our Consultants deploy customization discussions as a part of Helm360's Elite Enterprise conversion to 3E implementation strategy.
Data Health Check: A data health check tool provides our clients with a comprehensive report of datasets likely impacted by low quality, customized, and/or miscategorized data. The tool's purpose is to save both our clients and Helm360 Consultants time and unneeded complexity during the data conversion project.
Cleaning and Correcting Data for Priority During Enterprise to Elite 3E Conversion
Identifying areas of concern is the first step to ensuring data quality, followed by an analysis of system-wide data health during a data mapping exercise prior to conversion.
Typically, areas of concern will be identified within the following categories:
Data Issues that CAN be corrected prior to conversion: Elite Enterprise gave firms the ability to enter data into fields assigned for different purposes, adding flexibility but promoting human error. Our Consultants have found, for example, address form fields to be used to instructions for billing, notes, and other non-related address identifiers. Helm360's Consultants identify and correct this information prior to conversion to 3E during data mapping sessions.
Data Issues that CANNOT be Corrected Easily: Issues that cannot be corrected easily are known areas of concern earlier identified during the data health check performed by Helm360 Consultants. An assigned Conversion Analyst identifies the areas of high concern to ensure a thorough de-risk of such data elements by assigning them to high-priority during the data mapping session.
Data Issues Needing Internal Compromise: Understanding a firm's need for record-keeping and billing history are essential for the amount of data needing to be converted. Complexity presents itself when a firm has kept data through a merger requiring quick-and-dirty data migration, or when billing history extends beyond five to seven years. Often, achieving a higher quality data transfer during the Elite Enterprise to 3E conversion process, a historical limit is placed on the quality of data that can be achieved. Because of this, Helm360 Consultants implement appropriate reporting within a legacy database, providing firms with a simplified data conversion with the ability to view historical data.
Merging Databases: Helm360's Business Intelligence (BI) product, Terminus EnSight provides firms the ability to merge reporting from multiple data systems, combining and simplifying the reporting process in one easy-to-use interface.
Migrate
Helm360 Conversion Analysts services extend for Enterprise to Elite 3E conversions, MatterSphere, Design Gallery, and ProLaw. Helm360's solutions have succeeded in some of the largest data mergers from Elite Enterprise to Elite 3E with over 20,000 hours delivered, more than 55 migrations to date, 15 of which specifically dedicated conversions from Elite Enterprise to 3E.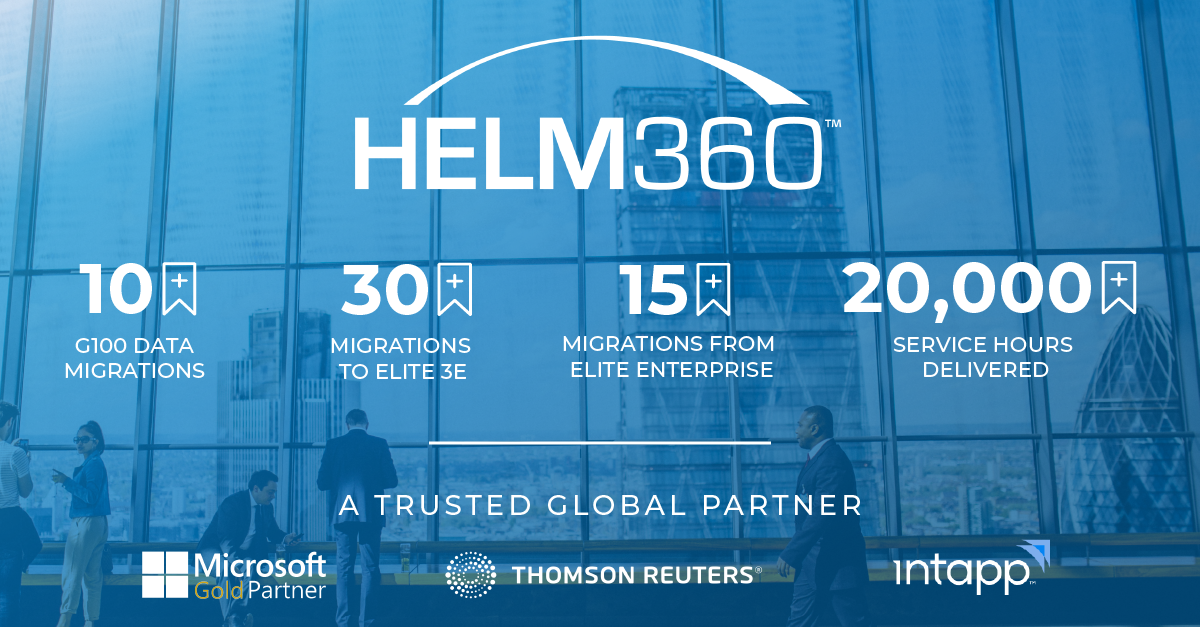 Configure
Helm360 consultants have helped law firms across the world implement Elite 3E and have a breadth of experience in application configuration, customization as well as template creation.
Customize
The Elite 3E framework provides a truly powerful customization layer through its Integrated Development Environment (IDE). In essence, any form, workflow, or business logic can be tailored to the needs of your law firm. Utilizing Helm360's conversion solutions ensure carefully managed implementation processes.
Customization Implementation Lessons from Helm360's Bim Dave:
"Having worked for Thomson Reuters for 16 years, I had the opportunity to oversee many implementations from a technical as well as from a post-go-live perspective. Here are the key lessons learned:
Customers that went down the route of heavy customization consistently met with project delays, budget overrun and performance issues.
Customers that had a tight grip on the scope defined in the strategy phase had a much better chance of hitting their go-live date with minimal issues.
Customers that implemented an approach of minimum customization for the implementation and then followed with a phase two program of incremental change had the most successful implementations and the best end-user satisfaction levels.
The key to a successful conversion is to limit the number of customizations you do as part of the implementation and introduce those changes later. Obviously, some areas of customization are unavoidable like bill templates and certain workflow processes, but the less you do the smoother your go-live will be."
Validate
Investing time and resources for testing Elite 3E within your firm's environment is critical to system adoption, data quality, and fluidity during the implementation process from Enterprise to Elite 3E. Quality assurance and testing solutions for Elite 3E can be performed by Helm360's Consultants for ease of mind and confirmation of excellence in your firm's data conversion.
Suggested Article: Helm360 De-Risks Hogan Lovells Elite 3E Implementation
Terminus for Data Conversion is a technology delivered through Helm360's BI offering, with an out-of-the-box solution designed specifically for Enterprise customers requiring conversion to Elite 3E. A customizable dashboard provides aesthetically pleasing side-by-side comparisons of the legacy Enterprise data against 3E data for:
Reduced time required for data validation
Removal of manual comparison of datasets
Instant visual cues offering users graphical charts and intuitively highlighting records with differences in report output
Ability to compare data on a multi-dimensional level with drill-down options for granularity
Easily export comparative data
Minimal technological learning curve