How many times have you hesitated upgrading to the latest version of 3E because you don't have the time and manpower to perform functional testing? One? Two? Twenty?
Regardless of the number, your firm isn't alone when it comes to delaying, avoiding, or canceling 3E projects due to inefficient functional testing capabilities. The risk of using an untested system is too daunting, especially for an industry that hinges on billable time.
Law firms have struggled with this functional testing issue for years. Its biggest impact is on 3E upgrades. Firms choose to limp along with outdated work arounds, fields they don't need, formatting from the 80's, and myriad other structural quirks. Yeah, they work, but don't truly serve the firm either. It's much better to move to an updated—and tested—platform.
We get it. Application testing is time consuming and labor intensive. Your in-house tech team can't be bogged down with this type of project every time the 3E application updates. However, your practice can't grow and flourish with an outdated, stagnant data system. It's not realistic and it's not sound business.
Having worked through this dilemma with numerous law firms, we decided it was time to find a viable solution. One that would make application testing accessible to 3E firms while contributing to the overall three-pronged healthy system roadmap we see emerging in firms with solid 3E environments.
Here's an overview of our new solution and how it fits into the larger legal tech picture.
Introducing Helm360's Automated 3E Testing tool
As stated above, the primary impetus for this tool is to make full 3E application testing accessible and manageable for law firms. We want firms to have more control and agency over their 3E systems.
Our Executive V.P., Bim Dave, explains:
"Using our tool, firms can say goodbye to tedious, labor-intensive application testing and hello to an automated, one-click action item any team can handle. This next generation solution makes implementations, upgrades, mergers and data testing faster, easier and worry-free."
To put this in the vernacular, we've taken the knowledge and test script library we've developed via our years of manual QA testing and built this automation tool. With the click of a button, the manual work that typically takes 2–3 weeks per test cycle at the minimum is reduced to hours.
The takeaway: The Automated 3E Testing tool saves you a helluva lot of time (and money) by automating manual testing activity and accelerating the repetitive testing process.
Why the Automated 3E Testing tool really matters
Automating a laborious process is a huge step forward in and of itself. However, having the ability to fully test your 3E system with the click of a button has huge ramifications to overall application health, which in turn contributes to overall ROI.
Here are three common scenarios where the tool is a true game-changer.
Negative testing. Application testing typically focuses on positive testing, i.e., ensuring the application works as expected. But what about activities you don't want to happen? Negative testing confirms that your application can gracefully handle invalid input or unexpected user behavior. Negative testing is equally critical to a well running application. However, negative testing is either overlooked because the team doesn't think about it, or it's scoped out to save time and money. The Automated 3E Testing tool puts negative testing back on the functional testing table and allows for more thorough application maintenance.
Full regression testing. Frequently, changes come to your application one module at a time. For instance, your latest update may only impact the billing module. It's common to functional test that module only after the update is complete. However, that one module pushes data to and from a network of other modules, like time entry, performa editing, invoicing, etc. To ensure the update truly works, a full regression test needs to occur. Again, the Automated 3E Testing tool makes this a manageable operation that won't disrupt operations and workflow.
User Accessibility Testing (UAT). UAT is another form of performance testing that contributes to a smooth go-live. Accelerating the 3E application testing allows firms to run UAT and functional testing simultaneously. Overlaying human feedback with the testing tool results makes for a more accurate application assessment that de-risks your system and promotes a smooth go-live.
We've been doing this work long enough to know that law firms test for myriad data scenarios. The tool's no-code UI and user-friendly UX allows for a wide range of data testing scenarios.
When testing occurs when and how you want, it transforms functional testing into a management tool that allows you to connect your system's dots and see your application realistically; you know what's actually going on and can plan accordingly.
The takeaway: The Automated 3E Testing tool allows firms to easily and efficiently test all the pieces of their 3E puzzle. Functional testing efforts extend beyond immediate need and surface checks. The result is ongoing access to an accurate picture of the application's operation and capabilities, thus knowing exactly what's going on with your firm's data.
Automated application testing for all 3E law firms
Although 3E firms have many commonalities, each firm has its own 3E configuration. Therefore, application testing needs to vary from firm to firm. The Automated 3E Testing tool addresses this issue by supporting customizations via the test script library and its configuration capabilities.
Tailoring the test script library. The Automated 3E Testing tool's stock test script library delivers a solid starting point for application testing. However, over time, you need to say, "Okay, let's do a gap analysis and see how our system has changed." The tool's recording function provides an accelerated way to capture every click involved in new test scenarios and writes the associated baseline code. This new testing script can then be added to the test script library for future use. The result is an individualized, relevant test script library that evolves with the firm.
Flexible customizing via configurations. This customization venue allows for testing via data sets. By feeding specific data into the Automated 3E Testing tool or choosing the random option, the test suite uses the data examples to automatically load against the automated functional test suite; the tool allows you to perform individual unit tests or build end-to-end business processes. This configuration-based customization occurs in a user-friendly, no-code UI that makes it accessible to and manageable for in-house teams.
Here's the best part: Regardless of how you customize the Automated 3E Testing tool, the tool automatically generates a report documenting everything that occurred during the testing, including screenshots, error messages, and any other anomalies/issues. This feature supports business process documentation efforts, allows teams to see what's really happening during the test, and helps define test objectives and success metrics. And with just a click of a button, these functions can be scheduled for ease of use.
The takeaway. The Automated 3E Testing tool is designed to align with any 3E firm's' technology environment. Whether your firm uses it as-is out of the box or tailors it to your needs, the tool makes the process easy and repeatable.
Optimizing your 3E application
Optimizing your legal tech involves more than simply updating your application. To fully leverage your tech investment, you need to change how you view your tech. Yes, it's a critical piece of your business system infrastructure, but it needs to operate at maximum efficiency to truly see the return on investment you have made in it.
Making this mindset shift requires perceiving your 3E system in a three-pronged, interconnected scheme:
Data review. This function addresses data quality, the primary component of a high functioning 3E system. It allows for data validation, de-duplication, data cleansing, etc. Maintaining accurate data and making it easily retrievable facilitates all future data projects as well as daily workflow.
Functional testing. This element ensures your application works as expected. As stated above, functional testing includes application gap analysis, full regression testing, positive/negative testing, and customization checks. This phase ensures data is moving through the system as it should.
Performance testing. Performance testing gives insight into infrastructure mechanics: Are load balancers working correctly? Are servers working in harmony? Are best practices in use? It ensures the system as a whole—from data to servers—operates at its best.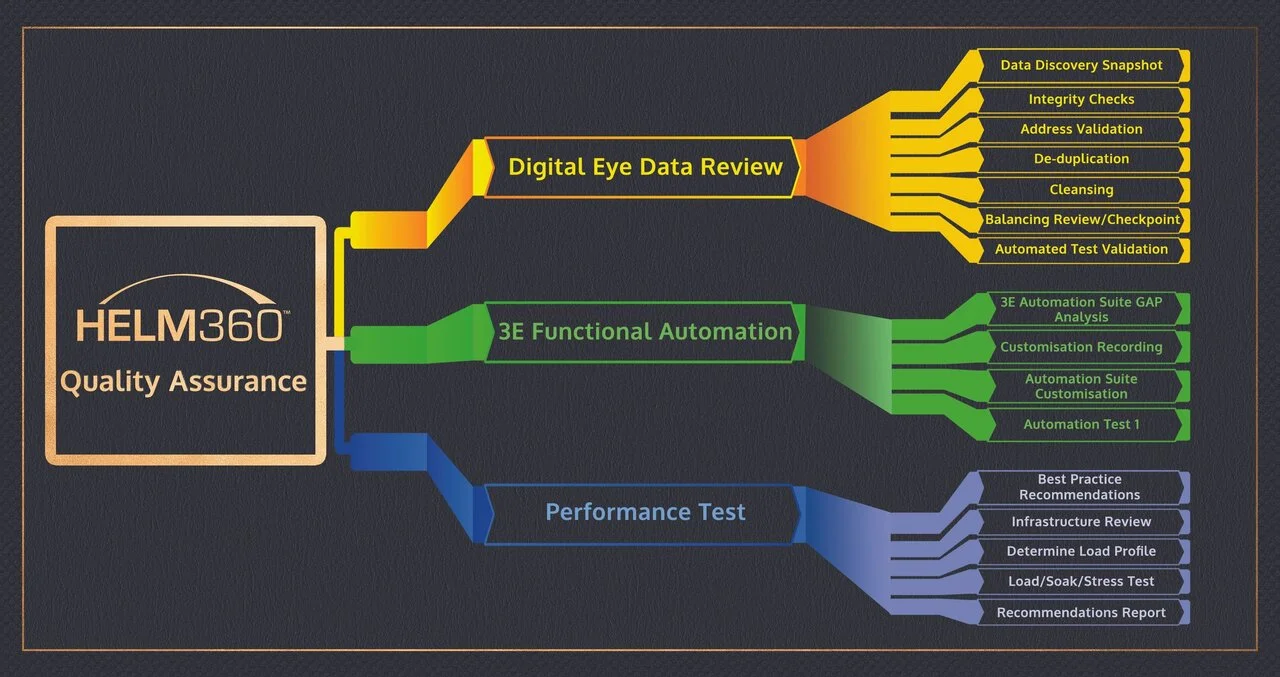 Typically viewed as standalone activities, each of these functions delivers significant benefits to your 3E landscape, like improved data quality, reliable processes, and consistent system performance. However, viewing them as an interconnected, interdependent whole, elevates overall system operations, which in turn boosts ROI, productivity, and ultimately, your bottom line.
Helm360's goal is to transform these significant application activities from one-off projects that require intensive time and labor costs (and create a lot of stress) into manageable, scheduled events that support the larger business goals, such as improving collections, increasing billable hours, and upping overall efficiency.
We're using our industry knowledge, technical expertise, and years of experience manually doing these processes to create game-changing tools like the Automated 3E Testing tool and
Digital Eye.
These tools accelerate key maintenance functions, eliminating the time and cost barriers while making the functions accessible for in-house teams.
For example, the Automated 3E Testing tool makes full application testing a one-click task that finishes in a matter of hours as opposed to a matter of weeks when each task is performed manually and separately. Accessible function testing supports up-to-date application upgrades. A fully upgraded 3E application delivers new functionalities, better security, and puts the system in a ready state for big ticket data projects like mergers, extractions, migrations, etc. This preparedness significantly reduces the time and labor needed for these bigger projects. The overall result is a high functioning 3E application that evolves with the firm and facilitates growth.
The take-away. Adopting this big picture legal tech perspective, and fully understanding how these three components interconnect to support each other, ultimately leads to better management decisions. Having the Automated 3E Testing tool in your legal tech toolbox makes shifting to and employing this new point of view attainable and cost-effective.
Application testing is a necessity. Avoiding it, delaying it, or performing it improperly puts your 3E system at risk and causes a lot of stress. Adding the Automated 3E Testing tool to your legal tech landscape empowers your tech team and opens the door to a healthy, robust application that not only supports your business, but helps it flourish.
Want to know more about the Automated 3E Testing tool?
Contact us!
We're happy to give you a free demo.