Written by: Tammy Salvo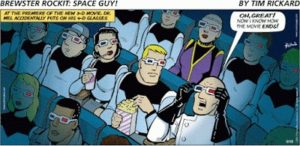 Analyzing data is the process of looking at the information presented and discovering patterns, trends, and revealed insights to help drive business decisions and improve operational strategies. It is the place where questions and hypotheses are tested. It is the time when we put on our "Chief Data Scientist" hat and dive confidently into the depths of insight our data presents.
Grab your 4-D Glasses
Let's first begin by understanding two prominent data types: quantitative and qualitative.
Qualitative data typically consists of information that is observed but cannot be measured. Many times this information consists of descriptive factors that express more conceptual data, data that is more characteristic than numeric. Some examples might include gender, race, religion, size, or attitude or attributes (passé, like, dislike, decision maker, etc.).
Quantitative data includes pieces of information that can be measured such as numbers (costs, ages, rating points, etc.). Making sense of quantitative data is often the easier to analyze. However, qualitative data introduces dimension into our measures, essentially transforming data insight from one-dimensional into four-dimensional.
The Kaleidoscope Effect
As you review your cube of data and information, begin to think about how it relates to your organization, the goals, past performance, and challenges you've faced and are looking to overcome. By assessing business operations through a kaleidoscope of intelligence, leaders gain transparency, begin to see past decisions in a new light, and gain the ability to twist and turn the information into the best possible position for future improvement and operational success. The kaleidoscope effect helps you position your business and strategies by maneuvering, viewing, and assessing past intelligence in new ways to derive the best possible outcomes for future success.
Build Your Yellow Brick Road
Now that you've seen your business in a new light, it's time to begin developing hypothesis – logically linking explanations and predictions through the light of the established facts. Predictions are the bridge between explanations and findings. Think of it as the yellow brick road which leads the way to the Land of OZ where expanded or enhanced product offerings skyrocket, customer retention rates escalate, and revenue growth and market positioning continue on upward trajectories. By interpreting data and giving discovered patterns significance, businesses gain a better understanding of what is required to not simply maintain status quo, but grow.
Share the News
You understand the data, have twisted and turned it to reveal the most promising outcome as well as built the road with the highest success potential! Now, it's time to gain executive buy-in and share with the masses. With businesses, there is a plethora of reporting solutions and formats. These may include bar graphs, pie charts, tabular reports, infographics, and more. No matter the presentation methodology, it is important to keep the value of the details at the forefront. In other words, don't let the presentation itself blur the significance of the intelligence you worked so hard to reveal.
Not everyone is a Chief Data Scientist. However, with a few insights and tools, you can certainly transform the way you view, interpret, and assess data to develop better decisions and stronger operational strategies.
Helm360 takes the guess work out of business analytics while significantly reducing costs and processing times of advanced reporting initiatives. Leveraging the most state-of-the-art technological advancements, Helm360 allows businesses to view data in real time. Our team of highly innovative, passionate, and intelligent people that thrive on ingenuity are committed to delivering exceptional solutions and services that exceed expectations.