Workflow approvals are critical to various key business functions. However, the billing workflow approval process carries more weight than others. It is, after all, the money. The firm's revenue stream and profitability depend on it.
As an Elite 3E user, your billing workflow has a lot of moving parts: multiple timekeepers, numerous locations, various time zones, various currencies. Happily, Elite 3E is designed for these factors—which is why you invested in it in the first place.
Because Elite 3E's focus is collecting, aggregating, and reporting accurate data and reports, its billing workflow approval process is effective and efficient. But it can be enhanced to another level with Termi.
Where you're losing money without noticing
As robust as the Elite 3E workflow approval process is, it's inherently a time heavy process: timekeepers click into a browser-based experience. Then they click into Elite 3E. Then they click to the billing approval area, click on their action list, and then click their way through each item.
Click, click, click, and click!
Clicking into and through applications is normal. Like waiting for traffic lights, clicking our computer buttons is part of getting through the day. We do it without even registering it's eating into our time.
But those clicks add up.
In an industry that bills in five-minute increments, the time spent clicking through billing workflow approvals impinges your timekeepers' billable hours. The time they spend clicking through the process is time they're not billing clients.
In other words, all that clicking is money slipping through the cracks.
How Termi helps you get that money back
Thomson Reuters does a great job keeping Elite 3E current with technological advancements, like cloud computing. This connectivity opens the door to AI tools, like our Termi solution. This advanced computing capability enhances Elite 3E's functionality.
Enhanced functionality equals money back in your firm's pocket.
This raises the question:
What does "enhanced functionality" look like in practice?
We define enhanced functionality as processes that align with and improve users' everyday work habits. Here's how this concept looks through the Termi lens.
Streamlined. Termi's biggest enhancing feature is the absence of excessive clicking. Instead of click-click-clicking through each workflow approval step, Termi brings pending approvals—and all the supporting documentation—straight to the user's Termi interface proactively. Notes, edits and approvals are made in Termi, which records the information directly in Elite 3E. It's quick, easy, and in line with the attorney's workflow; the attorney doesn't have to set aside time to go into Elite 3E to approve each proforma.
We estimate using Termi for workflow approvals returns an average of one hour per week per attorney. How many attorneys are in your firm? What's the potential increase in annual billing if they all have approximately 52 more billable hours per year? Multiply that by the number of attorneys you have and the numbers can quickly equate to six figures.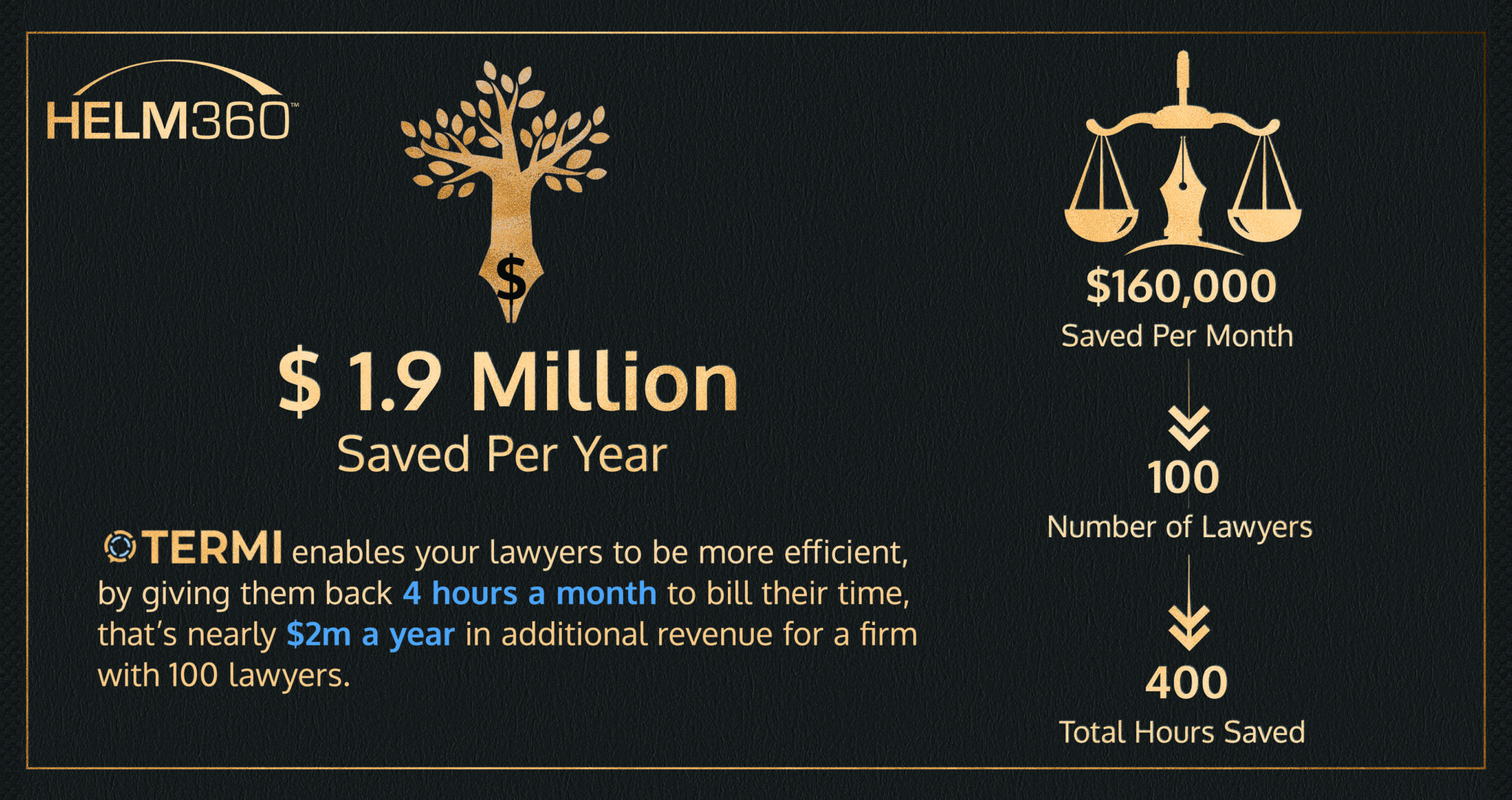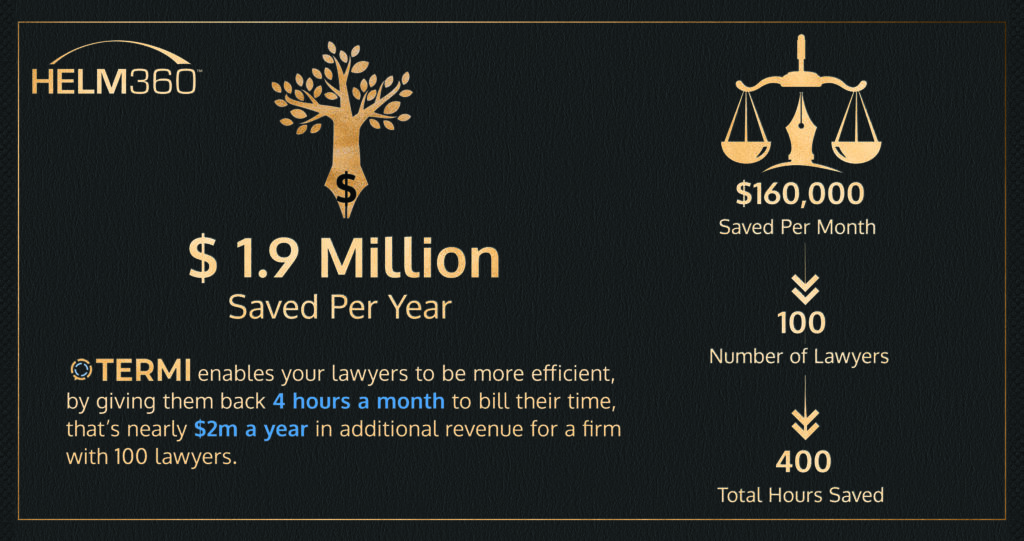 Mobile. As a culture, 90% of our computing is done via smart phones and other mobile devices. We work on the go. However, the traditional workflow approval process remains stuck to browser-based systems; attorneys have to be in the office on a desktop to do this work. Given that remote and hybrid work models are becoming the norm, relying on a location dependent system prevents you from harnessing the time and efficiency of your attorneys' mobile computing.
Termi helps you capture extra minutes before they vanish by making the workflow approval process mobile friendly. With Termi, attorneys can address their pending approvals from home, the courthouse, while Ubering to an appointment or waiting for their Starbucks order. It removes the location hurdle and aligns the task with their everyday computing habits. The result? An accelerated workflow approval process. Faster approvals equal faster billing.
Auto-prompted. Among the most time-consuming aspects of the workflow approval process is reminding attorneys to do them. Emails have to be sent (multiple times), which makes extra work for the support team and delays the billing process. The traditional model is exactly like the accelerated model—but in full-speed reverse!"
Termi automates the reminding process. Attorneys receive a list of their pending approvals in their daily Termi briefing with an accompanying action list. Each item links to all the supporting documentation needed for an accurate and thorough review. The attorney also receives an auto prompt when a new approval arrives as well as when one is due and/or late ensuring this critical business function stays top-of-mind.
Again, Termi's auto prompts keep the workflow approval process in line with the attorneys' daily habits, like checking their email. Your attorneys can perform this work without taking the time to log into Elite 3E or go searching for supporting documentation. They can fit this work into their pockets of open time throughout the day quickly and easily without involving support staff and IT.
Termi's ability to accelerate the Elite 3E workflow approval function allows your firm to recoup those lost billable minutes that have been slipping through the cracks. Over the course of a year, these snippets of time translate into significant dollar amounts that can transform your bottom line.
Termi improves collections realization too
Workflow approvals represent one end of the billing process. Collections is the other. Just as Termi helps catch unbilled time, it also removes restrictions and facilitates timely communications—and these lead to improved collections.
Let's put some numbers around this.
For the average law firm, the typical lawyer bills 88% of their actual work. That leaves 12% in uncollected fees. In dollars, this translates to over $7M uncollected annually for an average firm.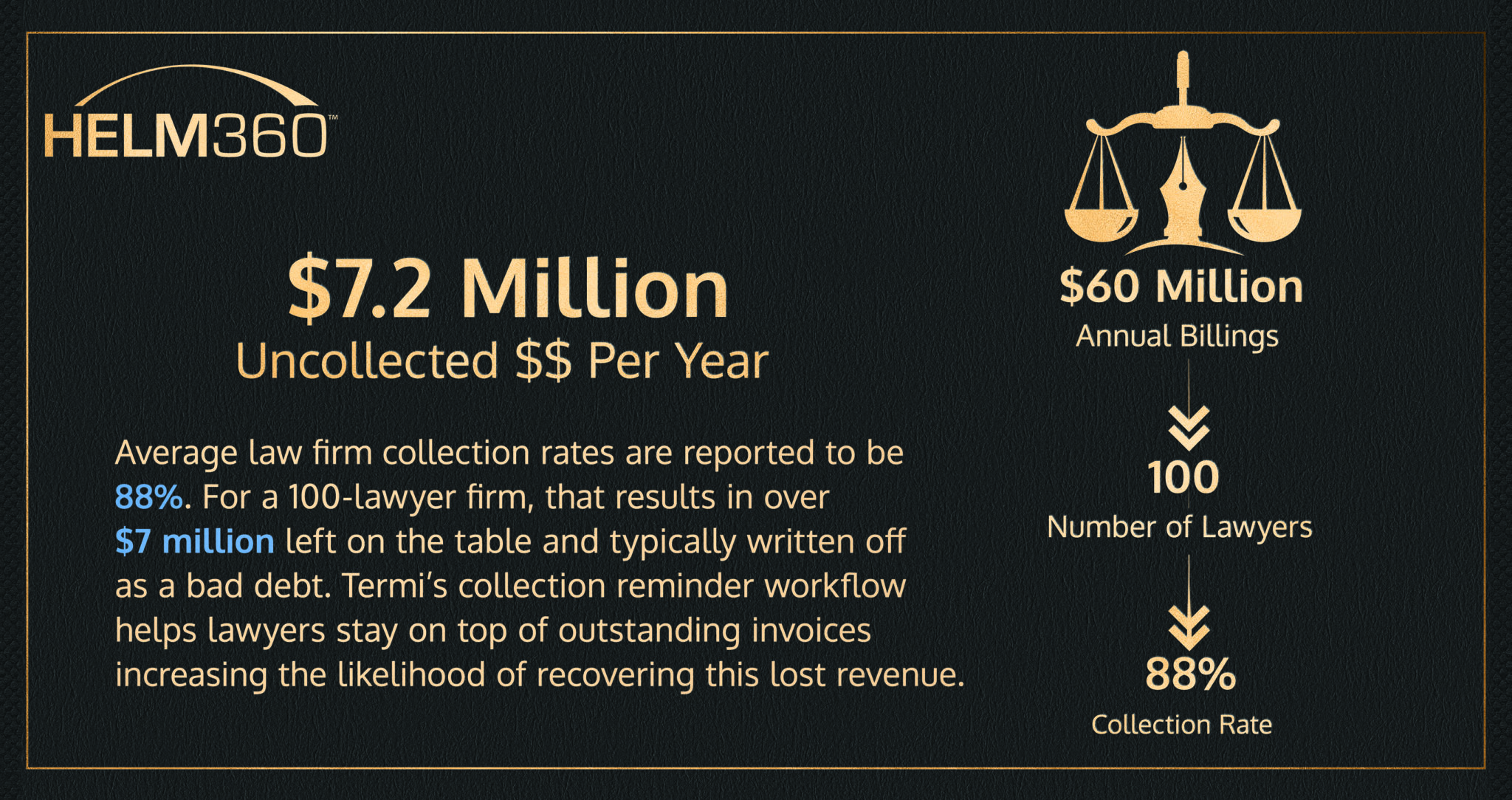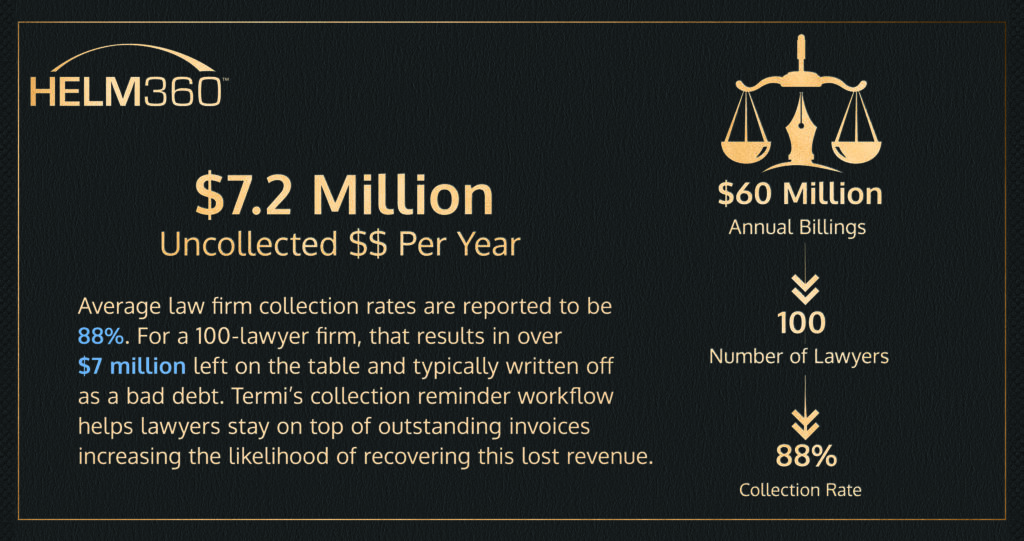 Do you want your firm to keep losing $7M annually?
It's common knowledge that you have a better chance of collecting a bill in full if the client receives their invoice as close to the time worked as possible. Every day that the invoice is delayed reduces your likelihood of receiving the entire 88% of billed fees.
Termi's ability to accelerate the approval process keeps the invoices going out quickly addressing this aspect of collections.
But then you still have the unpleasant side of collections: chasing down those unpaid bills.
Traditionally, this is handed off to a collections team or supporting team. This seems efficient and expedient; however, research shows that clients are more likely to pay an outstanding bill if they're approached by the person who did the work and with whom they have a connection, namely the attorney. But attorneys are busy. They aren't going to remember to do this work—nor do they have the time!
This is another area where Termi removes restrictions, accelerates functionality and increases ROI.
As with the workflow approvals, Termi automates and streamlines this collection point by aligning it to the attorney's daily workflow. Termi notifies the attorney of outstanding invoices then provides low-lift options for the attorney to use to communicate with the client.
Termi offers two scenarios:
Email. If money isn't received on an account, Termi automatically prompts the attorney to request the funds. The attorney can ask Termi to send a personalized reminder email to the client with the outstanding invoice attached.
Call scheduling. It's more likely a client will pay if they receive a phone call from the attorney. After the outstanding invoice alert is issued, Termi gives the attorney the option to schedule a phone call with the client. If they choose yes, Termi scans their calendar for open times, provides options, schedules the call, and sets up auto reminders. Once the appointment is scheduled, Termi attaches the outstanding invoice, supporting documentation, and pertinent notes to the appointment ensuring the attorney has everything needed to communicate effectively with the client.
In both scenarios, the attorney's day isn't disrupted. They answer a few questions from Termi and continue on to their next task. More importantly, the collections process continues without delay, upping the chances that bills will be collected in full and a chunk of that uncollected $7M goes back to your bottom line
Conclusion
Of all your Elite 3E functions, the billing workflow approval needs to be the most efficient. The consequences of slow billing is simply too costly. Termi streamlines the workflow approval process and helps you recover precious minutes you didn't even realize you were losing. It's a low-lift solution that removes restrictions from the workflow approval process, accelerates its functionality, and elevates its ROI. A big win no matter how you look at it!
Want to know more Termi and how it can improve your firm's bottom line? Contact us! We're happy to give you a free, personalized demonstration.
---