Reading time: 8 minutes 30 seconds
If your law firm is growing, it's changing. At some point, that change will involve a data conversion, extraction, or migration. Maybe you're merging with another firm, perhaps you need to adopt a new application, or it might be time for a significant system upgrade. All these scenarios involve moving your data – all of it! – from one home to another.
It's daunting, tricky, time-consuming work involving one of your firm's most valuable assets: its data.
As legal technology experts, we've seen and experienced the ups and downs of the data conversion process. The underlying conundrum is how to make this critical process as efficient, accurate, and stress-free as possible.
We've determined that a successful conversion hinges on three components: people, process, and technology.
Successful Data Conversion Component #1: People
Every law firm is on the lookout for cost-saving opportunities, especially when a large project is in play. It's tempting to think your in-house IT team or other staff can handle a data conversion on their own, particularly the data cleaning segment. They know your data best, after all. No need to hire an expert, right?
Data cleansing accounts for 80% of the time and cost of a data conversion or merger.
Wrong.
80% of the time, work, and cost associated with data conversion projects is often spent on data cleansing and normalizing. This process is 50% more involved than most law firms expect! In our experience, most law firms drastically underestimate the time needed to perform a data cleanse well and accurately. Inevitably, this miscalculation leaves in-house employees floundering and the project lurching to a stop.
The data cleansing and normalizing process is detailed, specialized, and ultimately the lynchpin for a conversion's success. To have it done correctly, thoroughly, and effectively, you need IT professionals who excel in this field. Doing it yourself invariably leads to wasted time, enormous monetary loss, and possibly a botched conversion.
Helm360 Recommendation #1: Hire Professionals.
We recommend you contract this work to a vendor with experience working in the legal landscape. Here's why:
These IT pros see the big picture of your world. They understand how your data connects and functions as a whole. Past experience allows them to spot anomalies and errors quickly as well as offer suggestions for better overall performance and functionality. Plus, they know data conversion pitfalls and can avoid them.
It gives your project a designated workforce. Hiring a vendor to manage the complex and resource-intensive details allows your staff to stay focused on daily operations and ensure the data conversion project moves forward efficiently and effectively as a whole.
It prevents costly mistakes and wasted time. More often than not, we're called in to fix data conversions that law firms thought they could do themselves. Essentially, these firms pay twice in money and time to have the work done.
Successful Data Conversion Component #2: Process
In theory, a data conversion is straightforward: move data from its current home to a staging site where it's cleaned, edited, and normalized, then move it to its new destination site. Traditionally, stakeholders validate the data and/or sign off on it when it's in the destination site. That's it's final resting place, so shouldn't that be where the stamp of approval occurs?
Maybe not.
We've given it some thought and have concluded that this old way of doing conversions isn't efficient. It makes more sense to involve stakeholders at the staging segment. (We call this the Validate First Approach.)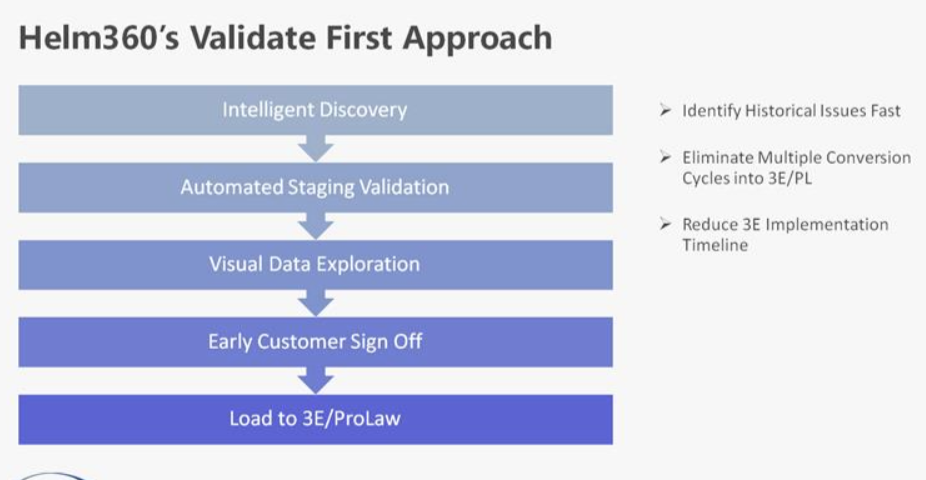 Why? Because it's easier to make corrections, customizations, and other edits in the staging environment. It's much more time-consuming and costly to back everything up from the destination site to the staging area, make changes, and then reload it to the destination site every time there is a hitch in the validation.
Moving the validation process to the staging step also offers stakeholders the opportunity to review their data in a simplified, code-free environment and consider whether it aligns with current business needs and future goals. It eliminates the learning curve associated with the destination site that can interfere with users' ability to really see their data and experiment with it. By moving the validation to the staging step, we better ensure that the data loaded into the new environment is as good as it can be.
Helm360 Recommendation #2: Validate First.
We use our Validate First Approach because we find it effective. As you do your research and connect with potential IT contractors, we recommend the following:
Discuss process. Each IT contractor has a system for conducting data conversions. Learn how edits, validations, customizations, etc. play into that process and how it affects the project's timing. Will their process work for you or against you?
Don't rush it. Regardless of how the vendor you choose integrates the validation piece, take the time to reimagine how your data will be used once it reaches the destination system. This is the perfect opportunity to add customizations or corrections that can leverage its power to facilitate insights that allow you to make better business decisions.
Successful Data Conversion Component #3: Technology
This component may seem like it should be left to the pros, but it shouldn't. As the person researching or leading your firm's data conversion project, you need to have awareness about how the technology involved contributes to the project's efficiency, accuracy, and quality.
For instance, how is issue tracking and change control taking place? A conversion can be completely derailed by undetected errors. Something seemingly as simple as a was/is list can spiral into an overwhelming data morass without a solid change control system in place.
How are queries being created and used? Does the IT contractor use automated, semi-automated, or manual queries? These choices will affect time costs and possibly accuracy.
Make sure your vendor can present you and/or stakeholders with a visual representation of your data. This will facilitate big picture thinking and help the non-tech savvy decision-makers participate in data optimization. It will also keep the project efficient by giving these busy people an intuitive way to detect errors and inconsistencies.
In our book, best-of-breed technology practices for data conversion projects include intelligent discovery (automated queries, query libraries, etc.), automated staging validation (standardized validation schema), and visual data exploration (no-code-needed reports). Technology that produces these outputs is more likely to create a successful and effective conversion.
Helm360 Recommendation #3: Know Your Technology.
The technology component is more about awareness than it is about actually making things go. We suggest you do the following:
Educate yourself about the technology involved. You don't need to learn how to code or be able to run a query, but you should be aware of how the data conversion technology is being used and what it's capable of. You need to know it's being optimized to its fullest.
Give error tracking its due. Error tracking is vital to all data migration elements. It also allows for prioritizing and managing issues to be solved. Having an airtight error tracking system reduces future inconsistency and time-sucking mistakes.
Look for best-of-breed technology. IT professionals who employ their technology in accordance with the best practices outlined above are demonstrating their data conversion expertise and skill. They know how to conduct a data conversion effectively and how to bring stakeholders into the process in a meaningful way.
Why Data Cleansing Should be on Every Law Firm's To-Do List
Mergers, conversions, and upgrades are large, significant events. However, we recommend every law firm keep data cleansing on their radar each year. It's a process that can happen on its own at any time. Here's why we suggest it:
System integrity. If you're using faulty, old, or inaccurate data to run reports and make business decisions, then how good are those reports and decisions? In today's competitive environment, it's essential to have clean, accurate data you can rely on.
Positioned for growth. In today's economic climate, your firm needs to be ready to respond to opportunities like mergers. Having clean data makes you more attractive to potential collaborators and makes these transactions smoother. (See this example.)
Ready for upgrades. Upgrades are going to happen no matter the size of your firm. Having clean data makes these recurring events smoother and faster.
Stay future-focused. As mentioned earlier, going through the data cleansing process offers your stakeholders the opportunity to reevaluate and reimagine how your data serves the business. It helps you align your data to future goals and keeps your firm moving forward effectively.
After reading this far, we hope you can tell data migrations and conversions are specialty areas for us. Knowing how critical these processes are to a law firm's well-being, we're keen to educate you on how to make them successful for your firm.
However, this education process includes tooting our own horn. We're good at this work. Here's what makes us a step above other vendors:
Designated data conversion team. Because this is highly sophisticated work, we pool our resources and maintain a designated data conversion team These specialists bring knowledge, expertise, and experience to each project that expedites the process and ensures it's done properly.
Validate First Approach. We've used our deep understanding of and experience in the legal sector to develop this methodology. We advocate for it because it works. It saves time, money, and keeps firms as productive as possible during these projects.
PMS application experts. Whether your firm is using Elite 3E, ProLaw, Aderant, or another best-of-breed PMS application, we have experience working with it. This facilitates migrations, mergers, upgrades, data cleanings, and any other data-focused project; we aren't starting from scratch.
Exceptional customer service. We don't' leave you hanging. Our unique onshore/nearshore/off-shore delivery system allows to be responsive 24/7. Our Data Conversion team also delivers on-site go-live support and ongoing communication throughout each project.
Conclusion
Given how dependent we are on technology and data, you can expect a data conversion to be part of your firm's advancement. Understanding how the people, process, and technology involved affect the outcome improves your chances of a successful project – and a positive ROI! More importantly, it ensures your data is safe, useful, and future-ready.
Helm360's Data Conversion Team regularly helps law firms of all sizes through this intricate process. If you're planning a conversion project and need more information, contact us. We're happy to help.