Estimated read time: 9 minutes
This is a tale of three law firms: one international, one regional, one local. They all had one thing in common: they needed to upgrade their legal tech system to the latest version of Elite 3E.
On the surface, this doesn't seem like a very compelling tale. Law firms upgrade their systems all the time, right? It's part of doing business. A walloping pain in the neck, but necessary.
But this is where the story gets interesting. These three firms chose an unconventional upgrade path. One that not only made the transition to their new environment smooth and easy, but also paved the way for ongoing data integrity, optimal system performance, and efficient improvements in the future.
The gamechanger for all three firms was a fresh mindset. They eschewed the traditional one-and-done approach where firms simply upgrade to the new platform as quickly as possible, despite the problems inherent with that tired method. The three firms opted for what we call the Helm360 perfect upgrade package.
The Helm360 perfect upgrade package goes beyond simply installing new versions of applications or software. It combines the upgrade with a system health check and managed services for a holistic result that facilitates better planning, better decision-making, and better overall operations.
Here's how it breaks down.

Beyond the Basic Upgrade
As mentioned above, all three firms started their journey needing an upgrade to the latest version of Elite 3E. Due to their sizes, each upgrade required a different level of complexity:
The international firm had multiple offices in various countries and hundreds of timekeepers.
The regional firm had nine office locations and 170 timekeepers.
The local firm had a single location and only slightly more than 100 timekeepers.
Each firm's footprint, size, and service area resulted in various levels of customizations and forms which in turn made each upgrade project uniquely challenging from the outset.
Usually, the upgrade process looks like this: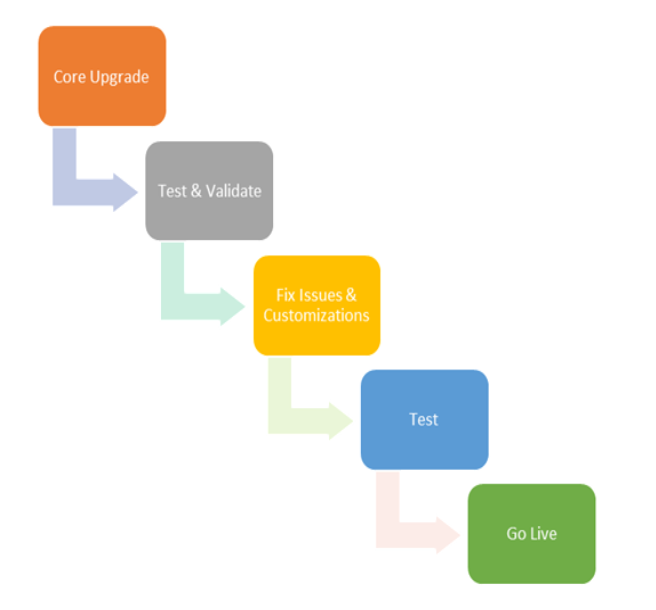 As mentioned earlier, the primary goal, typically, is to move to the new environment as quickly as possible. It's viewed as infrastructure upkeep, not as a management opportunity.
Our three firms steered away from this path. They invested the time to incorporate a system health check before the upgrade. This resulted in an extensive discovery process that provided a map — a visual snapshot — of their system. This moved their projects beyond mere infrastructure maintenance to a robust data-driven management opportunity.
The leaders of the three firms were able to visualize their systems' customizations and forms, which are what make upgrades complicated, time consuming, and expensive. Having the opportunity to evaluate them would not only smooth out the upgrade process for these firms, but also would free up space and processing time in the overall system.
With their discovery maps in hand, each firm's leaders could evaluate their Elite 3E systems' structure and potential in a way that had been previously impossible. They could ask questions like:
Are the current customizations and forms still valid? Customizations and forms are frequently carried from one upgrade to another without any evaluation as to whether they still serve the firm. The system health check gives firms the opportunity to further ask: Do our customizations serve our current workflow? Will they support our projected goals?
Can the customizations and forms be simplified? Many times, a new application release includes advancements that make part of a customization or form redundant. Simplifying these areas reduces potential issues and complications during the upgrade as well as during future operations.
Are the customizations and forms part of the current application? Can they be deleted? Many customizations are created as work-arounds to force the application to do a certain task. As the application advances, these issues are addressed and included in later versions, making the earlier work-arounds unnecessary. However, these original customizations or forms are never deleted; they get carried forward each time the system is upgraded.
Do the customizations and forms support current and future goals? Rarely do management teams look at system customizations and forms as a whole. Having a bird's eye view of how the customizations and forms contribute to the firm's workflow allows these management teams to look at the customizations and forms more strategically and decide if they have been moving their firms toward their goals.
How can the features and functionality of the new release be fully optimized? Rarely does a traditional upgrade include time for thoughtfully exploring the new release's features and functionalities. Focus is directed towards getting the new environment up and running, not the ins-and-outs of the new application. Including the discovery process in their upgrade process gave these firms time to explore and think critically about how they could fully leverage the new Elite 3E developments and incorporate those decisions into the upgrade process.
As can be seen, the discovery maps provided by the system health checks allowed each firm's leaders to remove unnecessary obstacles from their upgrade journeys. Including the discovery process also better informed their upgrades. The Helm360 team had a better sense of data integrity, balancing, and customizations before they began their work. The discovery informed project planning, budgeting, and projected QA tests.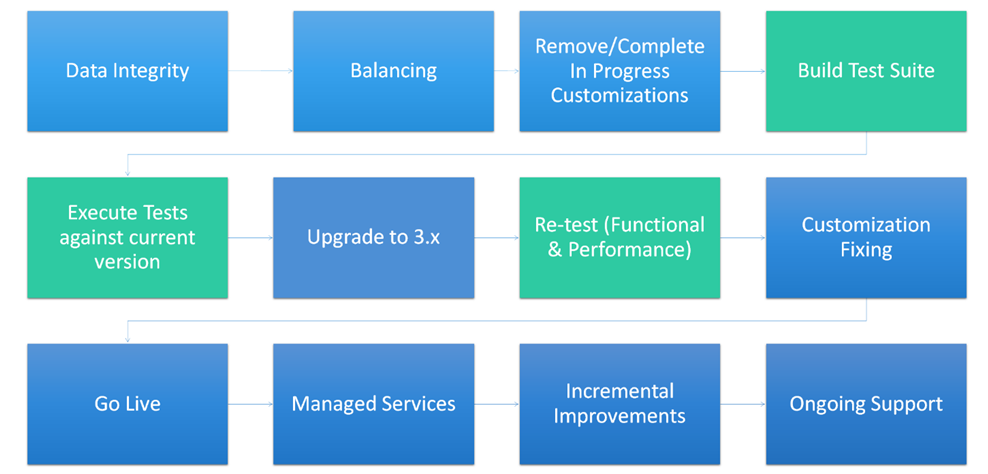 The result: All three firms experienced a more effective and efficient upgrade process. They also retained their discovery maps of their systems for use in future decision-making. They moved forward from the upgrade knowing their systems were in peak condition.

The Case for Managed Services
In most situations, this is where the upgrade project ends. The new environment goes live, there might be some user training, and the law firm and technology provider part ways until it's time to upgrade again.
Our three firms opted for Helm360's application managed services after their upgrades. Why?
First, a quick recap on what managed services are.
In general, managed services are staffing support packages that remove the burden of internal management in a certain area of business. In this case, a managed services agreement alleviates a firm's need to staff and manage their technology upkeep.
No matter a firm's size, a managed services agreement is worthwhile for several reasons:
It's an efficient use of technology dollars. It allows firms with in-house IT teams to keep their employees focused on daily operations issues. For firms without in-house teams, it's an affordable way to access technology expertise.
It ensures that firms retain system knowledge. Regardless of employee turnover, firms have consistent and accurate records of what is happening with their legal tech system.
It's a proactive approach to crises. Technology is fickle. There's no guarantee a healthy system won't suddenly stop. Managed services agreements ensure that firms' systems are continually monitored and that tech professionals familiar with the systems are on hand to make incremental changes or address problems ASAP.
It keeps best practices in place. In the hustle and bustle of a business day, standards sometimes slip. This slippage can quickly cascade into a hodge-podge system that is prime for a crisis. Managed services keep firms' systems aligned with industry standards without adding to anyone's to-do list.
It delivers added tech support. Depending on the level of customization in a firm's upgrade, it's possible that the application developer won't be able to deliver ample tech support. Managed services agreements connect firms to tech professionals who bring a wider perspective and skillset to the environment.

The Real Managed Services Payoff
The real value-add for including managed services in the upgrade project is this: The firms in our story now have a team of Helm360 technology experts who know each firm's business, Elite 3E system, and goals.
The next time any of these firms upgrades, adds customizations, needs a new form, experiences a minor glitch, or wants to add a new location, Helm360, as their managed services provider, doesn't have to reinvent the wheel. We're familiar with the system, have ample documentation, and can make any adjustments quickly and with minimal downtime.
The firm keeps moving forward with no massive hiccups in productivity.
Managed services also add a level of expertise to these firms' operations teams. Firm management, goal-setting, and other high-level projections are executed with accurate tech information that's tailored to the specific situations, needs, and goals.
By stepping from the upgrade process into a managed services agreement, the three firms in our story gained a technology partner that will grow with them. The firms eliminated the need to search for tech vendors, they improved their systems' functionality, and they positioned themselves for efficient, productive operations going forward.
How the Story Ends
Happily, our tale of three law firms ends on a positive note:
The international firm experienced and end-to-end upgrade to the latest Elite 3E release in record time, to include carrying over all its intricate customizations.
The regional firm also received a smooth upgrade coupled with needed pre- and post-go-live support as well as user training.
The local firm's Elite 3E upgrade was the smoothest they've ever experienced. They're now positioned to achieve their projected growth.
Bottomline: They all upgraded their Elite 3E system in the most efficient way possible.
The takeaway: Each firm made a simple mindset shift from traditional upgrade project to the Helm360 perfect upgrade package and they viewed their upgrades as a management opportunity.
Bringing the Helm360 perfect upgrade package to your firm is a low lift. The key is to ask bigger questions to drive the upgrade project:
What other data can you as a firm leader gain from this process?
How can you use it to better position your firm for the future?
How can you make your tech maintenance an easier lift?
Conclusion
So how will your firm's upgrade story unfold? Will you follow the well-worn path and keep it to a one-off project? Or will you take the unconventional road and opt for Helm360's perfect upgrade package complete with system health checks and managed services?
It's true that both options provide you with an upgraded Elite 3E environment. However, taking the road less traveled gives you more options and greater peace of mind. Isn't that worth a detour from the normal route?
Interested in incorporating our perfect upgrade package into your upcoming upgrade project? Need more information about managed services? Contact us! We're happy to answer questions and supply more information.